Section 5: Administrative Functions
5.3 Export Request Form
Click here to watch a video overview
There are two ways to produce data out of CloudNine. First, the Production Request Form, can be found on the Training & Support Menu, and will send the required information directly to Client Services, who will begin the production process for you. The second method, the Bulk Export Utility, will be covered in length in Section 5.4.
We recommend using the Production Request Form if:
You wish to have special processing on the export.
The export is large (over 4 GB in size).
You wish to produce this data set to the other side with agreed-upon specifications
You have a reseller who handles your exports for you.
You are unsure about any step in the Bulk Export Utility.
To access the Production Request Form, go to the Support tab in the Database main screen Navigation Bar and click Export Request Form: (see Figure 49)

Figure 49
Once you click the Production Request Form, a pop-up form will appear: (See Figure 50)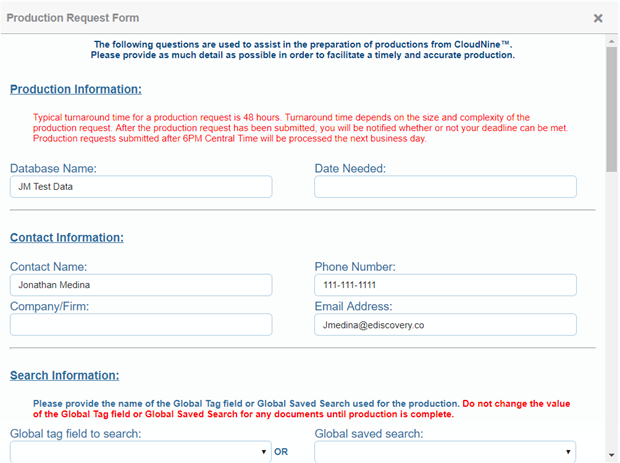 Figure 50