Click here for a video overview
Located in the top tool bar under users.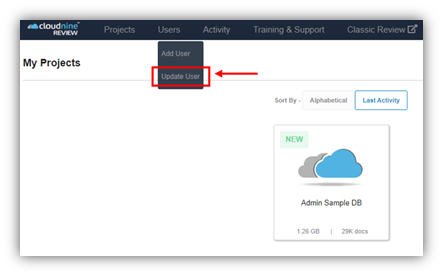 Select update user and then select the user to update.
User Data:
Update users contact information.
Update document View List (default is 25).
Update session time (default 20 minutes).
Update FTP access and disable user account.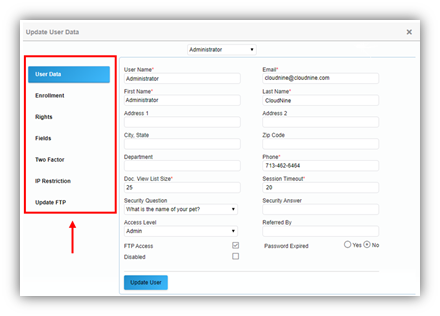 Enrollment:
Enroll and unenroll project from the user.
Rights- Rights:
Access Level

Admin: can update project maintenance items (items in this section).
User: has access to the project and rights granted
Reviewer: only has access to review sets when enabled. If not enabled, has access to the full database but not search.
All Rights: Gives user all rights below.
Document Rights:
Create Global Fields: Users can add fields to the DB for all.
Edit Global Fields: Users can update Global Fields.
Bulk Tag: User can use Group Tagging.
Annotate Tag Documents: User can annotate and redact.
Download Document: Users can download all versions of the document.
Print Document: Users can print images.
Reporting Rights:
Audit Log Report: Users can run the audit log.
Metadata Report: Users can run the Metadata report.
Searching Rights:
Full Text Searching: Uses can perform Full Text searches.
Rights- Filters:
View Rights:
Hide Image Tab: restricts user's access to the Image.
Hide Native Tab: restricts user's access to the Native.
Hide Text Tab: restricts user's access to the Text,
Hide HTML Tab: restricts user's access to the HTML.
Filter Rights:
Users can use search criteria to restrict a user to only see records that match the search results.
Fields:
Selected fields will be available to view and search in the project.
Fields can be sorted to only show All/User/ System fields.
Two Factor:
Enable a second password (six-digit code) sent via email or text
IP Restriction:
Input IP Address users can login from.
No limit to number of IP addresses a user can input.
Update FTP:
Updates the FTP address used for the discovery client.