Sort Chronological Item List View
When you click on Review Project Metadata in the project dashboard, you can change your sort orders to view by date or Control Number in ascending or descending order.
Date Time Stamp will sort the view, whether you have filters or not, by the first date in database or query.
Control Number will sort the view, whether you have filters or not, by the control number in alphabetical order.
24hr Thread (Chronological) will sort the view will return the threads. When you click to view the item it will immediately bring you into the thread view instead of the item view.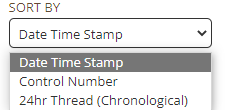 Ascending order will be the first date in the database or query and descending order will start with the last date in the view.

Note: By default, all chronological item views are by date and from oldest to newest.
Note: 24hr Thread (Chronological) When you select to sort by 24hr Thread, which applies to threaded data types such as communication and social.
Other data types will display in the review list as individual items in chronological order with the threaded items. To perform QC of counts (e.g., number of items with specific tags) we recommend sorting by "Date Time Stamp" or by "Control Number".
Leveraging sort by "24hr Thread" will display only one item per responsive thread. Clicking the view icon will launch the full thread view of that item. If you choose to bulk tag the entire result set from the results page, only the single item in the result set will be tagged, not the entire thread. This holds true for all sorting operators with specific filters applied. To bulk tag the full thread, use the bulk tagging functions within the thread view.