Self Service Production Templates allow users to save production settings for reuse of production settings in the future
Creating New Templates
Under Self Service Productions users can select to create a new template. When creating a new template it is recommended to select the settings before creating the template, this will avoid having to update the the template after the settings have been changed.
To create a template, Select the settings needed for the production.
Select Create

A pop up will appear allowing a user to enter the template name and description.
Template names support: Up to 50 characters and the only allowed special characters are - (hyphen) and _ (underscore)
Template descriptions support: Up to 100 characters of any text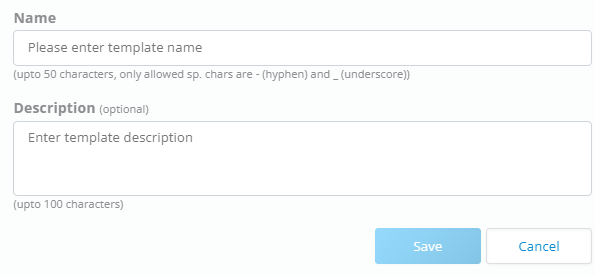 Click Save and the screen will close and the production screen will reappear
Editing Existing Template Settings
When settings need to change for future productions users can update existing settings.
To edit an existing template, select the template and the production settings will load
Edit the settings and the Update button will light up

Click update and the setting changes will save and the update button will go back to disabled
If you make changes to a Production Template and run the production. Settings will not update the template unless the update button is clicked
Managing Templates
If a user needs to edit a template name, description or delete a template manage templates allow users to do so.
To update a template name, description or delete a template, click on Manage Template.

To search for a template enter the name of the template in the search bar
To edit a template (it will run as a contains search)

To edit a template Name or Description click on the word Edit under action the template row you wish to edit
A pop up will appear with the option to edit the name, description or both.
Make any changes required and click update.
If no changes are needed click close or cancel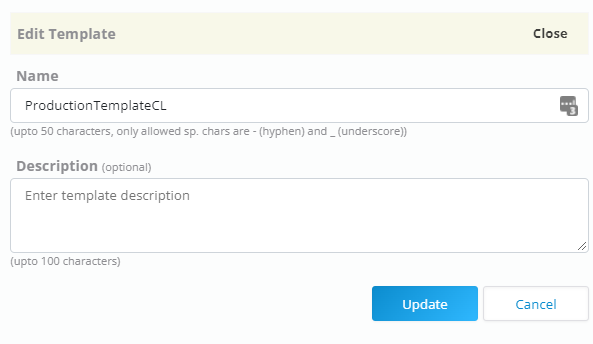 To delete a template, click on the word Delete under action the template row you wish to delete.
A confirmation screen will appear, click ok to proceed
Deleted productions will still appear in the manage template screen but no longer be listed in the templates to select.
Templates can be restored by clicking UnDelete