Section 4: Working with Documents
4.1 - Annotating and Manipulating Images
Click to here to watch a video overview
When viewing images, use the image tools panel to annotate, manipulate, re-size, redact, or print images. It permits these functions:
Pan Delete
Zoom Note
Best Fit Highlight
Fit Width Free Hand
Full Size Confidential
Rotate Privileged
Print Black Redact
Save White Redact
The image tools panel is found in the top right corner of the viewer frame. Click the Image Tools button to expand the list, and select a feature: (see Figure 36)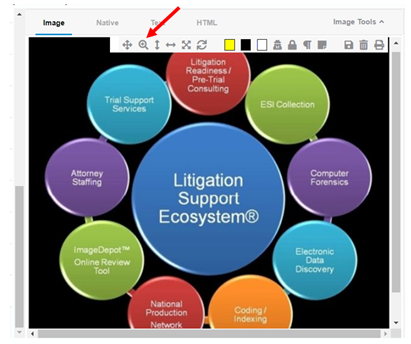 Figure 36
After selecting an annotation tool, drag your cursor back over the image and click in the appropriate area to execute the feature (for example, if you are redacting, click and drag a box around the area to redact).